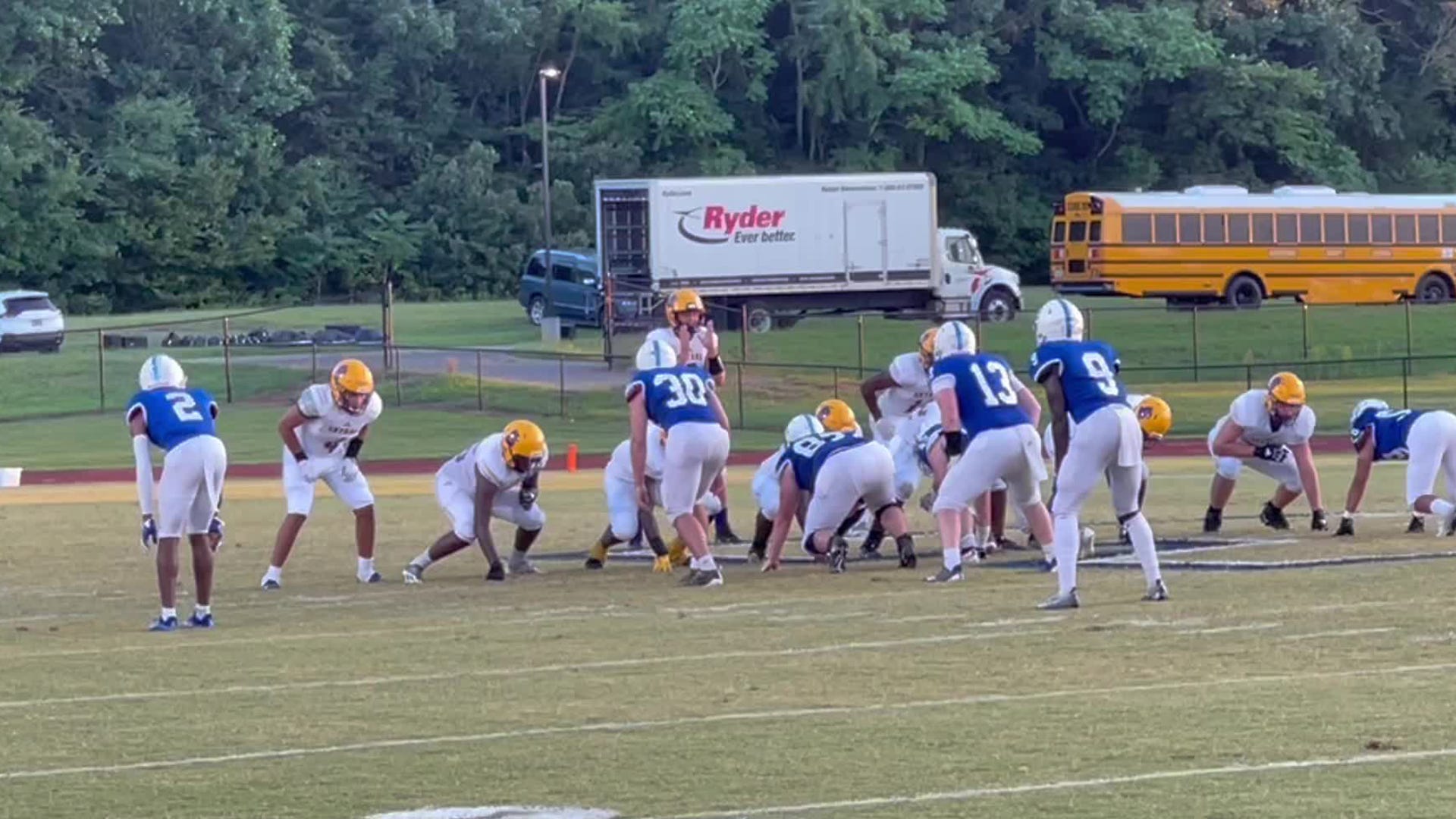 VIDEO: Soccer Smyrna 33, Rockvale 12
Highlights from Smyrna's 33-12 victory over Rockvale in Thursday night football action.
Cecil Joyce, Wochit
ROCKVALE – Thomas Jones of Smyrna was the youngster at an experienced Bulldog high school last season.
The junior defensive back's role has changed dramatically this season, being the veteran presence in a young group that has been tested hard in the first two games. One he's mentoring is fellow junior Michael Robinson, easily the smallest Bulldog in the starting lineup at 5-foot-7, 135 pounds.
On Thursday at Rockvale, mentor and mentee stepped up in Smyrna's 33-12 victory over the Rockets. Jones had two interception returns for touchdowns in the win.
"The perspective has definitely changed (from last season)," said Jones, who was an all-area defensive back for DNJ's second team in his sophomore year. He has three interceptions this season.
"I can understand when (younger players) mess up and are nervous, trying to make plays. It helps to be patient and allow yourself to be comfortable."
PREDICTIONS: Predictions for Murfreesboro Area High School Football Games in Week 2
JOYCE: Upsets, both good and bad, dominated Murfreesboro-area soccer during Week 1
Jones had interception returns of 48 and 46 yards that helped Smyrna (2-0) pull away from Rockvale (1-1) in the second half. His performance at the start of the season hasn't surprised Smyrna coach Matt Williams.
"He's a playmaker," Williams said. "He was our leader in interceptions last year. He's not just a playmaker, he's a great guy. Hats off to him for making plays when we needed them."
Robinson arguably had the play of the game, turning the momentum around with a 99-yard interception return for a TD that gave the Bulldogs a 7-3 lead late in the first half.
"They're always testing it, every game," Jones said of his counterpart. "They throw him over the top, but he doesn't give up. They think that because he is small he cannot play. But he is a ballplayer."
The turnovers by Jones and Robinson were especially big considering Smyrna lost starting quarterback and free safety Landon Miller in the first half to a shoulder injury.
Williams said he didn't know the severity of Miller's injury, but both he and Miller were optimistic it wouldn't keep the senior out for long.
Smyrna's defense hasn't been perfect, allowing a 100-yard rusher during Week 1 and giving up around 400 yards in Thursday's win. But the Bulldogs have been opportunistic, forcing eight turnovers, including four interceptions.
"They've done a good job taking advantage of mistakes," Williams said. "In many other areas, we have to improve."
"We're going to get a lot better as the season goes on," Robinson said. "We have to keep working."
Arion Carter, a commitment from Memphis, had touchdown runs of 5 and 27 for Smyrna.
Contact Cecil Joyce at [email protected] or 615-278-5168 and on Twitter @Cecil_Joyce.